How to Lock Files with Password on Windows 7/8/XP?
Data security or data protection now is of prior importance, there are various ways of locking your data, but none will prove to give you complete guarantee that your data will be safe. The only way that will give you complete satisfaction is completely safe is by locking your important files and folders. Your files and folders can be locked with software without software too, and it all depends on your need of security level.
Nowadays people look for data security. Every person has a different reason for locking their files, some wants to secure it because leak out of those data might cost his business a lot and some want to secure it (especially teenagers) from their parents, for not to spoil their image and hide facts from them.
Here we are going to show how to lock files step by step, Firstly download the Folder lock and install it to your PC.

Step 1. Run Fold lock and set Master Password
Run the folder lock then the program will remind to set the Master Password. You can choose to enter the master password with the Virtual Keyboard, Because the virtual keyboard allows users to enter password without being logged by some keylogger program.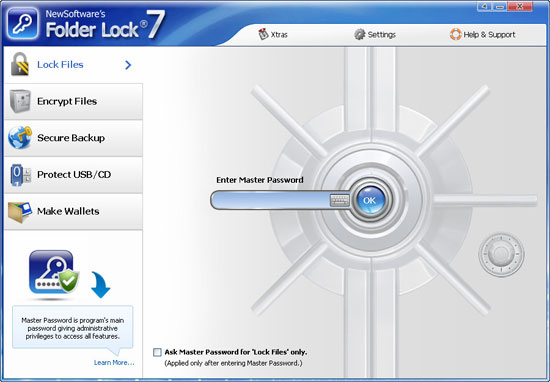 Step 2. Select Files to lock
Go to the Lock Files feature, you can choose the folder to locking with the "Add file(s)" menu. You can also load file for encrypting dragging and dropping them into the program window.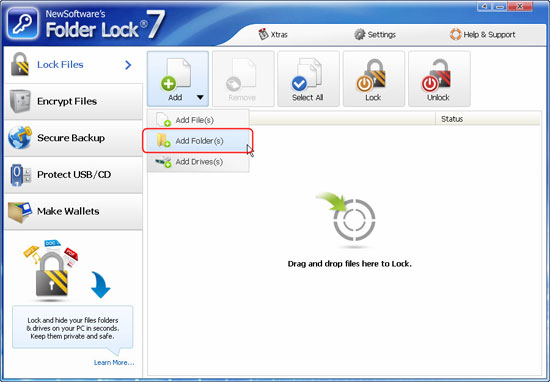 Step 3. Finish locking files
Once you have chose and load the folder and files to the locking list, the default security setting Locked and Hidden will both be applied to the items, which will make your Locked items both inaccessible (Locked) as well as hidden. and by now you have finished protecting the folders and files with the Master password.
Tips:

Folder Lock for PC is a feature rich security application that keeps all your private files in a secure status that can only be accessed after entering correct password. You can add almost everything to be locked starting from pictures from your Photo Gallery to videos and audio, important files and sensitive data that you have downloaded from the internet.
With folder lock you can save all types of documents that include doc and docx formats, Microsoft Excel files that include xls and xlsx formats, web pages that include html and htm formats, PowerPoint presentations including ppt and pptx formats, text and rich text files including txt and rtf formats and all available formats of video, audio, and images.
Video Demo
Related Articles:
Windows Software
Video Tools
DVD Tools
Audio Tools
Security Tools
Mac Software
Mac Video Tools
Mac DVD Tools
Mac Audio Tools
Mac Security Tools