How to Lock Directory/Folder with Password?
Data security is the basic need of all computer users and comparatively a big issue among computer users. As the field of technology is progressing step by step, computer users have become smart enough that they have found out the ways to secure the information that they have saved on their computers and laptops.
There are different approaches to secure your data. Some people are using the technique of coding on a notepad file that creates an encrypted directory. In this encrypted folder, you can keep your important data and can lock directory/dir with a password.
Here we are going to show how to lock Dir/Directory step by step, Firstly download the Folder lock and install it to your PC.

Step 1. Run Fold lock and set Master Password
Run the folder lock then the program will remind to set the Master Password. You can choose to enter the master password with the Virtual Keyboard, Because the virtual keyboard allows users to enter password without being logged by some keylogger program.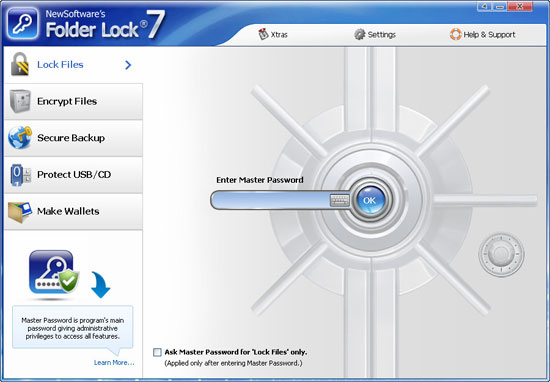 Step 2. Select folders to lock
Go to the Lock Folders feature, you can choose the folders to locking with the "Add folder(s)" menu. You can also load file for encrypting dragging and dropping them into the program window.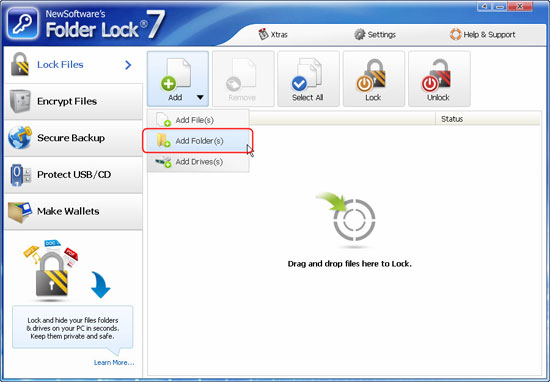 Step 3. Finish locking dir/directory
Once you have chose and load the folder and files to the locking list, the default security setting Locked and Hidden will both be applied to the items, which will make your Locked items both inaccessible (Locked) as well as hidden. and by now you have finished protecting the folders and files with the Master password.
Tips:
In addition to this, there are some reliable file encryption software which comes with many other useful features like USB portability, history cleaning, data shredding, ability to lock and/or unlock files and folders, auto protection, stealth mode and many more. All such additional features of file encryption software make it icing on the cake.
This constructive software will be a useful tool in protecting your private data from other people. The software converts the data into a coded format that is only viewable by the authorized person with a valid decryption key. You can easily encrypt and decrypt any folders including flash disk and removable hard disk.
You are not able to delete copy and view any files in the encrypted folder. The encrypted flash disk or removable hard disk can be decrypted in another pc or in another laptop. All you have to do is just simply select the files from the integrated file browser and encrypt them. The name and extension remains the same, so they can be later identified.
Video Demo
Related Articles:
Windows Software
Video Tools
DVD Tools
Audio Tools
Security Tools
Mac Software
Mac Video Tools
Mac DVD Tools
Mac Audio Tools
Mac Security Tools