How to Protect folder with Password on Windows 7/8/XP?
Many issues about data theft and data leakage have been reported in our daily life. Privacy has become an extremely important issue online, for most people tend to store and transmit data via the Internet, and there are many hackers.
A new application for the private or confidential data in PC called folder protector has become popular in market. Folder protector is a fantastic new application that lets you secure contacts, photos, video, notes and bookmarks that you don't want anyone else to be able to access.
When you access the application you are required to enter a password before you can access the application's content. This excellent application quality with this feature alone but also offers a lot more. Its use for storing videos, photos, contacts, notes and bookmarks is flawless and these features work exactly as you would want them to.
Here we are going to show how protect folder with password step by step, Firstly download the folder protector and install it to your PC.

Step 1. Run folder lock and set Master Password
Run the folder lock then the program will remind to set the Master Password. You can choose to enter the master password with the Virtual Keyboard, Because the virtual keyboard allows users to enter password without being logged by some keylogger program.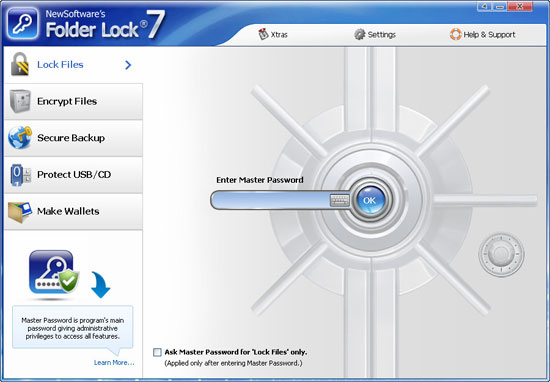 Step 2. Select folder to protect
Go to the Lock Files feature, you can choose the folder to locking with the "Add folder(s)" memu. You can also load folders for encrypting dragging and dropping them into the program window.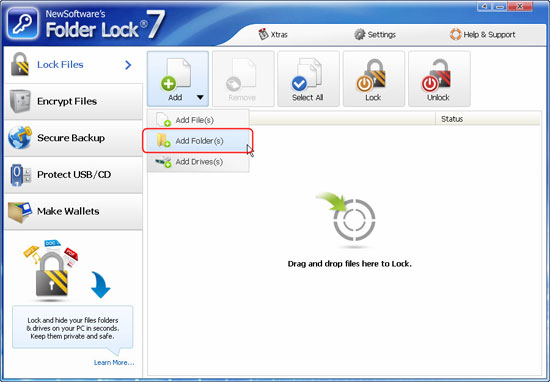 Step 3. Finish protecting folders
Once you have chose and load the folder and files to the locking list, the default security setting Locked and Hidden will both be applied to the items, which will make your Locked items both inaccessible (Locked) as well as hidden. and by now you have finished protecting the folders and files with the Master password.
Tips
The app is easy to use and navigate and all the settings are self-explanatory. Getting to grips with it is easy and the design has been well perfected. Anyone that uses this app will wonder where they have been without it all this time.
Video Demo
Related Articles:
Windows Software
Video Tools
DVD Tools
Audio Tools
Security Tools
Mac Software
Mac Video Tools
Mac DVD Tools
Mac Audio Tools
Mac Security Tools