How to edit M4V files on Mac?
Q: "Please can someone help me with this, I have searched and can't find anything on this. Does anyone know any software that enables me to edit .m4v files on Mac OS? I need to revoved adverts from files and make some easy editions such as trimming, splitting, joining and adding some Transition between the videos to make the video more beatuifu. I know iMovie can edit videos, but it seems that it doesn't support the .m4v format" -- Jann Smith.
To edit M4V on Mac, a professional and easy to use video editor for Mac is required. iOrgsoft M4V Editor for Mac, which is a perfect OS video tool to split, cut, trim, join, adjust, crop and convert .M4V video file on Mac OS Leopard. It can split or convert from M4V, MP4, MPEG-1, MPEG-2, MPEG file to smaller clips in MP4, MPEG-1, MPEG-2, MPEG-4 formats.
Note: If you are using Windows and want to edit M4V files, you can refer to Video Editor for Windows here. Just download the Mac M4V Editor below and follow the step-by-step tutorial to learn how to edit M4V on Mac/Windows OS
Step 1: Import M4V files to Mac M4V Editor
After the installation of the M4V editor for Mac, you can directly drag and drop the source M4V files to the program for editing.
Step 2: Edit M4V Files on Mac
In this Mac M4V video editor, you just need to click the button on the toolbar to trim, crop, rotate videos and add voiceover to your videos.
If you want to make the whole video creation harmonious, you can choose to add scene transitions to all the added files or separately. What' more, you are able to add graceful melody as the background music for the movie.
Click the gear on one video and choose "Filter", "Titles", etc. to add titles, filter effects, adjust video brightness, saturation, etc. to enhance your video effects.
In Trim window you can freely select the clip you like by dragging the start time and end time sliders surrounded by red circles.
In Crop window there are some numbers. Modifying these numbers is to alter the dimensions of the video. dragging the frame around the video has the same effect.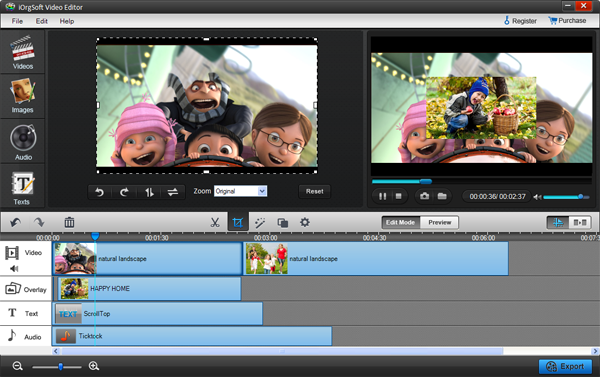 Step 3: Share edited M4V video
Click "Output" on the main menu bar, you can convert your M4V video in other formats and save it on your Mac. Or convert to the format which is playable on iPhone, iPod, iPad, etc. You can also choose to burn them to DVDs if you would like to share them with your families or friends.
These functions provided by .M4V Editor Mac are all to make you create your satisfied M4V videos. Come on to free download and edit M4V for mac. And You are also allowed to upload your video creations to YouTube directly by clicking "YouTube" and filling in necessary information.
Extended Knowledge: What is M4V Video?
M4V is one of the formats used for video podcasts, based on a codec used by the QuickTime. This codec is part of the MPEG-4, a global multimedia standard and this standard was introduced to provide optimized video podcasts for the video iPod.
QuickTime is multimedia software that is used to display synchronized graphics, sound, video, text and music. This was introduced Produced by Apple Computer Inc. the software is available in versions for Mac OS and Windows.
Related Articles:
Windows Software
Video Tools
DVD Tools
Audio Tools
Security Tools
Mac Software
Mac Video Tools
Mac DVD Tools
Mac Audio Tools
Mac Security Tools